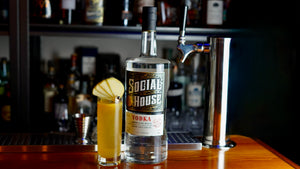 National Vodka Day Craft-a-Cocktail: The Forbidden Apple
Today is the day… Happy National Vodka Day to all of our socialites! For all of you who participated in our National Vodka Day, Craft-A-Cocktail story posts, this is for you! Introducing, The Forbidden Apple.  SOCIAL HOUSE® Vodka apple cider, freshly squeezed orange juice, and a splash of Prosecco.
Are you thirsty? Come and join us in celebrating National Vodka Day with live music from Jake Miracle tonight at The PumpHouse 1906™ from 5 p.m. - 12 p.m. and this Thursday - Saturday from 4 p.m. - 11 p.m. We can't wait for you to taste your own creation! The Forbidden Apple will be the featured beverage the entire month of October, come try it for yourself!
---