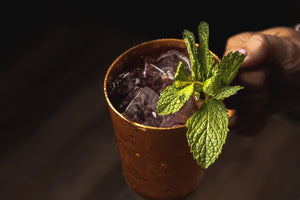 How These Classic Vodka Cocktails Got their Names
We all love a classic craft vodka cocktail. The expertise, ingenuity, originality, and creativity that it takes to perfect a vodka cocktail recipe that remains a staple in the mixology community is hard to come by. However, throughout time, there have been those creative souls who have crafted cocktails that have withstood the test of time. In this blog, we're analyzing some of our favorite traditional craft vodka cocktails and how they got their names. Continue on to learn more about mixology history from SOCIAL HOUSE Vodka!
Cosmopolitan
The Cosmopolitan that we all know and love originated before the Second World War. Initially, this fan-favorite was called the Vodka Gimlet! This was in part due to the lower quality of well liquors in that era. After World War II, Cointreau (an orange-flavored triple sec) was discovered in France. This combination that cocktail mixers created was coined the Kamikaze. There are multiple mixologists who claim to have created the classic Cosmopolitan that we all know and love today, which is cranberry juice, triple sec, freshly squeezed lime juice, and vodka. However, the popular theory is that the drink originated from the combination of the fresh cranberries grown in Cape Cod to the leading bars in mixology in New York City.
Moscow Mule
Around the 1940s, vodka was not a popular spirit of choice. John G. Martin, owner of Smirnoff Vodka, had found that he was simply unable to sell vodka in America. No one was drinking it at the time! The story goes that Martin visited L.A.'s own Cock'n Bull bar, where he was venting to the owner, Jack Morgan, about his lack of luck for selling vodka in the U.S. Morgan commented that he had been unable to sell his ginger beer. Another unlucky business man added that his copper mugs hadn't sold nearly enough to earn profit. What resulted was the creation of the Moscow Mule, a ginger beer and vodka cocktail that is famously served in a copper mug! The name? This is simply speculation, but the "Moscow" in Moscow Mule may have been for association purposes, while "mule" may have hinted at the kick of flavor that the ginger beer adds to the vodka cocktail!
White Russian
Allegedly, a Belgian barkeep is accredited for the creation of the White Russian. In 1949, bartenders in the area had been serving up the "Black Russian" which was a White Russian without the cream. Some time in the 1950s, creamer was added to create a silky smooth drink that was an immediate hit!
SOCIAL HOUSE® Vodka | NC Vodka
We hope that you've enjoyed learning some of the backstories behind some of the world's most famous craft vodka cocktails! Looking for a new place to sip on your favorite classics? The PumpHouse 1906™ is now open in Kinston, NC! Tour our distillery while sipping on our favorite craft vodka cocktails featuring SOCIAL HOUSE® Vodka. Our vodka tasting room is open on Thursdays through Saturdays, from 4 p.m. to 11 p.m. We hope to see you soon!
---