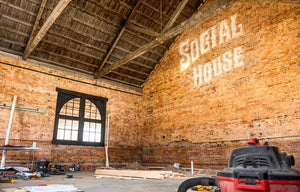 SOCIAL HOUSE® Vodka Presents: The PumpHouse 1906™
SOCIAL HOUSE® Vodka is proud to present our latest project that we've been dying to share with you! Introducing The PumpHouse 1906™ – Eastern North Carolina's first vodka tasting room. An experience that unifies our distillery tours, craft spirits and mixology innovation center, event space, cocktail bar, and social house into one space for Kinston, North Carolina to support a "Social Summer!"
Grand Opening
The PumpHouse 1906™ will be hosting a private opening for close family, friends, and peers of SOCIAL HOUSE® Vodka on August fifth and sixth. On the seventh, the Grand Opening festivities and tours will be open to the public! These tours will show guests around the facility that makes SOCIAL HOUSE® run, along with a premier hand-crafted cocktail bar that will be mixing up signature cocktails with the best NC vodka!
More About The PumpHouse 1906™
You may be wondering - "why PumpHouse 1906™?" The establishment is exactly what it sounds like. The PumpHouse 1906™ was built in 1906. Its original purpose? The PumpHouse's main function was to supply power to Kinston as a coal plant. Once other forms of power production were introduced, however, the coal plant was discontinued and left abandoned. After sitting deserted for over 40 years, owner Cary Joshi had a vision for the space. Inside the building sat two deep-water wells that tap directly into the ancient groundwater system that is the Black Creek Aquifer. Taking advantage of this feature, SOCIAL HOUSE® Vodka features the crystal clear, signature water that makes up 60% of our premium craft vodka.
All In the Details
The PumpHouse 1906™ is rich in history, as well as interior beauty. The exterior features a one-story, side-gabled brick building. Six original light wood-sash windows cast delicate light beams onto the walls of the interior. The timeless elegance of the 1920s speakeasy culture is punctuated by the original exposed brick walls and wooden roof trusses.
The menu for The PumpHouse 1906™ features over 100 different craft spirits, wines, and beers for customers to enjoy. Being the largest specialty liquor menu in Eastern North Carolina, there is something new for everyone.
Come and Join Us!
You won't want to miss out on all of the activities, events, and fun that you'll have while visiting our new social space! While sipping on hand-crafted original cocktails, take a stroll throughout the establishment. You'll notice there are opportunities to participate in distillery tours, which will take you through the history of The PumpHouse 1906™. There will be cocktail classes for those who would like to try their hand at mixology. Tastings are available that are tailored to each guests' interests and experience levels!
SOCIAL HOUSE® Vodka | NC Vodka
SOCIAL HOUSE® Vodka is the finest craft vodka in North Carolina. Our vodka is crafted with the consumer in mind. Our small-batch vodka shines with premier craftsmanship. The same level of quality and pride at which we hold our vodka, we hold our community. We invite you to join us in celebrating the opening of The PumpHouse 1906™! For smooth spirits featuring the best NC vodka, live music, and other fun events and classes, visit our website to make a reservation!
---