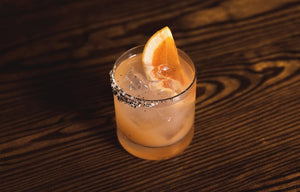 Speckled and Salty: The Dalmatian SOCIAL HOUSE® Vodka Cocktail
With the grand opening of our vodka distillery, The PumpHouse 1906™, SOCIAL HOUSE® Vodka is so excited to be featured in the most unique and tasty cocktail creations in North Carolina! We've decided that we can't hold in our cocktail recipes in any longer, and we're giving you an exclusive look into how we make some of our signature SOCIAL HOUSE® cocktails at our Kinston vodka distillery for you to enjoy from wherever you are!
The Dalmatian is one of the fan favorites at The PumpHouse 1906™. With notes of freshly squeezed grapefruit juice and the smooth, refreshing taste of SOCIAL HOUSE® Vodka, who can blame our guests for loving this signature cocktail so much? 
One of the key features of the Dalmatian is easy to spot! With speckles of black and white, the rim of this cocktail glass is dotted with salt and pepper! Want to learn how to make your own Dalmatian featuring the best craft vodka? Continue on to test your mixology skills and craft your own SOCIAL HOUSE® Dalmatian cocktail!
What You'll Need to Craft Your Own Dalmatian
It's not hard to guess what comes first on the ingredient list. You'll need the best craft vodka, of course! SOCIAL HOUSE® Vodka is what makes this cocktail the instant classic that it is! The smooth, lightly sweet sip compliments the twist of tart from the freshly squeezed grapefruit, leaving you feeling satisfied and refreshed. Wanting to know how you can whip up your own signature cocktail? Here's what you'll need to craft your cocktail with our premium craft vodka:
1 1/2 oz of SOCIAL HOUSE® Vodka
4 Fresh grapefruit halves
Salt and pepper
Ice
How to Create Your Own Dalmatian
Add ice cubes into your shaker.
Slice your grapefruits into halves. Squeeze your grapefruit halves with a juicer for the best results.
Pour the freshly-squeezed grapefruit juice into the shaker.
Pour in the best craft vodka, SOCIAL HOUSE® Vodka!
Shake well.
Time to rim the glass! Wet the rim/side of your glass with a halved grapefruit.
Roll the glass in the salt and pepper!
Add fresh ice cubes to keep your drink nice and cold.
Pour, sip, and enjoy.
Repeat!
This cocktail is perfect for the last few winks of a #socialsummer. Sip while lounging by the pool, catching up with friends, or lounging to live music.
No matter how you sip your SOCIAL HOUSE®, be sure that you drink responsibly and tag us in any pictures of you enjoying your cocktail! We'd love to see your creations.
SOCIAL HOUSE® Vodka | Kinston, NC
At SOCIAL HOUSE® Vodka, we're honored to give North Carolina a premium craft vodka with a final sip that is as refreshing as the first. With our distillation process, we believe that we have cracked the code to excellent, pure vodka with a history as rich as its flavor. To learn more about SOCIAL HOUSE® Vodka, visit our website.
---